Specification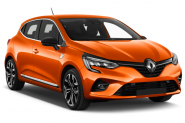 The latest Renault Clio is the fifth generation of this model, it was presented for the first time at the Geneva motor show in 2019.
The Renault concern, when designing the new Clio, set an evolutionary direction of changes that can already be seen with the naked eye - a completely new structure built from scratch without drawing on any other model, thanks to which the vehicle is shorter, but also wider and taller.
An additional advantage is the standard equipment of this vehicle, including 6 airbags, safety distance control systems, traffic sign recognition and lane keeping systems, Full LED lights, electric mirrors, central locking, electric power steering, on-board computer, electric front windows, height-adjustable drivers seat, heated exterior mirrors , air conditioning, electric, rear windows, and a multimedia system with a 7 touch screen, Bluetooth and Android Auto
/ Apple CarPlay.
Vehicle Equipment
- Cent.Lock
- Electric Mirrors
- Electric Windows
- Immobiliser
- Air Conditioning
- Metallic paint
- Airbag
- Radio+CD
- Power Steering
Pricing
16-29 day
8-15 day
4-7 day
1-3 day
28 EUR
30 EUR
33 EUR
36 EUR
22 EUR 1
24 EUR 1
27 EUR 1
29 EUR 1
17 EUR 2
18 EUR 2
20 EUR 2
22 EUR 2
Free of charge preparatory!
Full insurance!
Unlimited Kilometres!
1. Promotion period from 12-04-2023 to 15-06-2023
2. Promotion period from 02-01-2023 to 05-04-2023