Torrevieja is one of the most popular places for active recreation on the Costa Blanca, which every year conquers the heart of tourists thanks to its charming beaches and countless attractions in the area that can be reached by car within a radius of several dozen kilometers.
An additional advantage of this location is the proximity to the nearby El Atet airport in Alicante, less than 50 kilometers away.
Thanks to theOdkryj-Auto car rental, you can pick up your car from the airport mentioned above as well as the city center of Torravieja where we place the car in the vicinity of the Main Railway Station.
We offer cars from all classes - 4-passenger city cars perfectly tailored to the city voyages for compact class cars and larger ones, which are the best companion for further travels.
An additional advantage for which it is worth choosingOdkryj-Auto car rentals is the fact that the staff speaks fluent two languages - Polish and English, and the signed contract is concluded in Polish.
Customer Reviews
Office of Torrevieja number of reviews 1 customer rating 5.00 / 5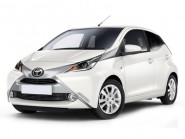 "Zdecydowanie mogę polecić "
Piotrek
Office Torrevieja
Torrevieja, Hiszpania
---
Mobile phone: +48 660 505 474
eMail: biuro@odkryj-auto.pl