Specification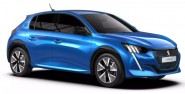 The Peugeot 208 was presented for the first time at the Geneva International Motor Show, when it replaced the 207 offered by the French since 2006 - compared to its predecessor, however, this model gained completely different features, more round proportions, which more closely corresponds to current automotive trends.
It was in this model that the avant-garde design of the dashboard was used for the first time, which was distinguished by protruding clocks called by the manufacturer i-Cockpit.
In February 2015, the car underwent a facelift, which changed mainly to the front of the vehicle - lamps and bumpers both at the front and at the rear of the vehicle were changed.
It is one of the representatives of the "B" segment available in our fleet - no credit card is required to pick up a vehicle of this class, and thanks to the minimum formalities, you can leave us with a clean and fully fueled vehicle within 5 minutes from the meeting in the office.
Vehicle Equipment
- ABS
- Cent.Lock
- Electric Mirrors
- Electric Windows
- Immobiliser
- Air Conditioning
- Metallic paint
- Radio+CD
- Power Steering
Pricing
16-29 day
8-15 day
4-7 day
1-3 day
28 EUR
30 EUR
33 EUR
36 EUR
22 EUR 1
24 EUR 1
27 EUR 1
29 EUR 1
17 EUR 2
18 EUR 2
20 EUR 2
22 EUR 2
Free of charge preparatory!
Full insurance!
Unlimited Kilometres!
1. Promotion period from 12-04-2023 to 15-06-2023
2. Promotion period from 02-01-2023 to 05-04-2023