Specification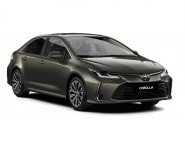 The absolute number 1 on the market already in the year of its premiere, the new Toyota Corolla model won the hearts of drivers, becoming the sales leader on the Polish market.
Corolla is for many a synonym of reliability, which means that this one, produced
continuously since 1966, has won the hearts of users.
The latest generation Corolla has the same wheelbase as the larger Toyota Avensis class, which translates into a lot of interior space, especially for passengers occupying the rear row of seats.
Corolla was powered by a 1598cc gasoline engine working with a 6-speed manual gearbox and characterized by a high work culture, which, combined with the excellent soundproofing of the interior of the cabin, gives passengers a sense of communing with a higher-class car.
Standard equipment includes 6 airbags, ABS and ESP systems, LED daytime running lights, air conditioning, multi-function steering wheel with power steering, power windows and mirrors.
Vehicle Equipment
- ABS
- Cent.Lock
- Electric Mirrors
- Immobiliser
- Air Conditioning
- Traction Control
- Metallic paint
- Radio+CD
- Power Steering
Versions Toyota Corolla Automat
hatchbacks
hybrid
automatic
Pricing
16-29 day
8-15 day
4-7 day
1-3 day
36 EUR
41 EUR
45 EUR
49 EUR
29 EUR 1
33 EUR 1
36 EUR 1
39 EUR 1
26 EUR 2
29 EUR 2
31 EUR 2
34 EUR 2
Free of charge preparatory!
Full insurance!
Unlimited Kilometres!
1. Promotion period from 12-04-2023 to 15-06-2023
2. Promotion period from 02-01-2023 to 05-04-2023