Specification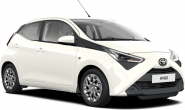 The Toyota Aygo was launched in 2005 and immediately became a sales hit responding to market demand for small city cars for the masses.
Our fleet includes the latest model of this vehicle, which in 2018 became the most popular class "A" fleet car. in Poland.
The latest model of a small, agile Japanese car, perfect for driving around the city. The 5-door body can accommodate 4 people, and the luggage compartment allows you to take one large suitcase or two small handhelds.
The Aygo is powered by a fuel-efficient and lively 3-cylinder engine with a 5-speed manual gearbox. Staying on the subject of the engine, it should be mentioned as a curiosity that the engine for this model is produced in the Polish factory in Wałbrzych.
The smallest Toyota was equipped with electric windows and mirrors, 4-airbags, ABS and ESP systems, leather multifunction steering wheel with power steering, radio with Bluetooth, air conditioning, on-board computer and central locking.
Vehicle Equipment
- ABS
- Cent.Lock
- Electric Mirrors
- Electric Windows
- Immobiliser
- Air Conditioning
- Onboard Computer
- Power Steering
Versions Toyota Aygo Automat
hatchbacks
petrol
automatic
Pricing
16-29 day
8-15 day
4-7 day
1-3 day
26 EUR
28 EUR
30 EUR
32 EUR
21 EUR 1
23 EUR 1
24 EUR 1
26 EUR 1
16 EUR 2
17 EUR 2
18 EUR 2
19 EUR 2
Free of charge preparatory!
Full insurance!
Unlimited Kilometres!
1. Promotion period from 12-04-2023 to 15-06-2023
2. Promotion period from 02-01-2023 to 05-04-2023