Specification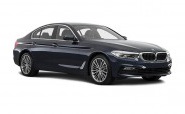 The BMW 5 Series with the G30 symbol made its debut in autumn 2016. - shortly
afterwards, it found its way to our fleet, thanks to which we are now giving our clients the opportunity to check the seventh incarnation of the popular "five".
Stylistically, the manufacturer did not introduce a revolution, referring to the styling of its predecessor, as a curiosity, however, we can say that thanks to the use of the new platform, the car is 100 km lighter than its predecessor, which is a sensational result that distinguishes this model from the competition in this class.
The premium rear-wheel-drive limousine is powered by a two-liter diesel engine, which, combined with the automatic transmission, gives extraordinary travel comfort, which is even more pleasing because this drive unit does not have a great appetite for fuel and with economical driving we are able to achieve a result of around 6 liters without much effort.
You can rent a car in many Polish cities - with a minimum of formalities related to signing the contract, you can rent this model at a favorable price after just 5 minutes - at the time of renting the vehicle, remember to have a driving license, ID card or passport and a credit card recognized in Poland, which, according to the rental conditions, is a necessary condition for the conclusion of the rental contract.
Vehicle Equipment
- ABS
- Alloy Wheels
- Alarm
- Cent.Lock
- Electric Mirrors
- Electric Windows
- Immobiliser
- Air Conditioning
- Onboard Computer
- Traction Control
- Metallic paint
- GPS Navigation
- Park Sensors
- Heated Seats
- Airbag
- Radio+CD
- Xenon lights
- Cruise Control
- Power Steering
Pricing
16-29 day
8-15 day
4-7 day
1-3 day
61 EUR
68 EUR
81 EUR
93 EUR
49 EUR 1
55 EUR 1
65 EUR 1
75 EUR 1
43 EUR 2
48 EUR 2
57 EUR 2
66 EUR 2
Free of charge preparatory!
Full insurance!
Unlimited Kilometres!
1. Promotion period from 12-04-2023 to 15-06-2023
2. Promotion period from 02-01-2023 to 05-04-2023