Specification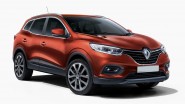 The Renault Kadjar is a twin construction to the second-generation Qashqai - these two models are built on the same floor plate.
The character of the car is already defined by its name, which is a combination of two words, i.e. KAD, referring to the driving characteristics of an ATV, and JAR, i.e. agile and agile.
Although this model is not the largest SUV of the French manufacturer (the size of this model is between the Capur and the Koleos, which it is to eventually replace), its dimensions are still impressive in the crossover class - the car is 4.45 m long, 1, 84 m wide and 1.60 m high, and the ground clearance is 19 cm. which makes this model ideally suited to overcoming urban nooks and crannies as well as longer routes with a larger group will be comfortable.
The interior can easily accommodate 5 people, and the luggage compartment with a
capacity of 472 liters will allow you to easily fit 3 large suitcases in it.
Modern design combined with high travel comfort makes this model one of the most
frequently chosen vehicles in this class, and in our fleet it constitutes the vast majority in its segment.
You can rent a Renault Kadjar in the Odkryj Auto car rental company with both manual and automatic transmission.
Vehicle Equipment
Pricing
16-29 day
8-15 day
4-7 day
1-3 day
41 EUR
45 EUR
49 EUR
53 EUR
35 EUR 1
38 EUR 1
42 EUR 1
45 EUR 1
31 EUR 2
34 EUR 2
37 EUR 2
40 EUR 2
Free of charge preparatory!
Full insurance!
Unlimited Kilometres!
1. Promotion period from 12-04-2023 to 15-06-2023
2. Promotion period from 02-01-2023 to 05-04-2023