Specification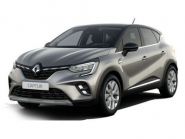 Renault Captur offered by car rental "Odkryj-Auto" is already the second generation of this model, which made its debut on the European market in 2019.
The second incarnation of Captur, similar to the smaller Clio with which it shares the floorboard, has kept its evolutionary direction of change. Compared to the first version, the appearance and design have changed significantly - the headlights with LED diodes are in the C-shape characteristic of the new models of the French manufacturer, and the body of the vehicle itself has massive wheel arches, making the car appear larger and more spacious.
Due to its size, the manufacturer wanted to replace the previously offered Clio Grandtour with this model.
Even in the basic equipment version of this model, we can find such advanced safety
systems as ABS with emergency braking assistance, Hill Start Assist or Electronic Stability Program (ESP).
To rent a car of this class, we will not require a credit card from you, and due to the minimum formalities related to the vehicle pickup procedure, you will leave us with a clean and fully fueled Capur after 5 minutes, the properties of which you will learn best while enjoying the ride in this compact crossover.
Vehicle Equipment
Pricing
16-29 day
8-15 day
4-7 day
1-3 day
32 EUR
36 EUR
40 EUR
45 EUR
29 EUR 1
33 EUR 1
36 EUR 1
40 EUR 1
26 EUR 2
29 EUR 2
32 EUR 2
36 EUR 2
Free of charge preparatory!
Full insurance!
Unlimited Kilometres!
1. Promotion period from 12-04-2023 to 15-06-2023
2. Promotion period from 02-01-2023 to 05-04-2023